Towards the suspension of titanium dioxide in cosmetics and medicines?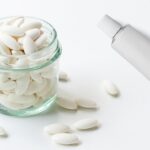 After food, the suspension of titanium dioxide in cosmetics (excluding sunscreens) and medicines?
By AVICENN Team – Last Added June 2022
The banning of (nano)particles of titanium dioxide in mass consumption products was requested for around ten years by various organizations (associations, journalists, health agencies, etc.). These demands have accelerated lately with the ban on titanium dioxide in foodstuffs (E171) in 2020.
AVICENN compiles below the requests in favor of extending this ban to cosmetics likely to be ingested and/or inhaled (toothpaste, make-up, lip balms, etc.) and to medicines.
Countdown :
In 2022 :
21 June 2022: The European Commission has required the Scientific Committee for Consumer Safety (SCCS) to reassess the safety of TiO2 in cosmetics, in view of its genotoxicity when exposed by inhalation and by the oral route. Among the types of cosmetics mentioned: lip balms, lipsticks, toothpastes, powders, hair sprays. The CSSC has nine months to issue its opinion, which should therefore be finalized in March 2023.
January 14, 2022: the European regulation 2022/63 prohibiting the food additive titanium dioxide (E171) opens up the possibility, in its Article 3, of a ban on E171 in medicines – a decision which could be taken in 2025. By April 2024, the European Medicines Agency (EMA) must have carried out an updated assessment to that the European Commission can reconsider the need to maintain titanium dioxide (E171) on the list of colorings used in medicinal products, taking into account the progress made in the meantime to develop alternatives. "If the replacement of titanium dioxide (E171) in medicinal products has not taken place or has not started within the aforementioned period, only verifiable objective reasons related to the impossibility of replacing it should be taken into consideration"
In 2021 :
December 24, 2021: relaying the Kali survey (see below), France 3 interviews Pauline Cervan from Future Generations which denounces the fact that titanium dioxide has no role in the effectiveness of drugs, but presents risks of carcinogenicity and genotoxicity
December 22, 2021: the kali-magazine makes its "one" on the 800 drugs containing titanium dioxide and calls for the withdrawal of TiO2 medication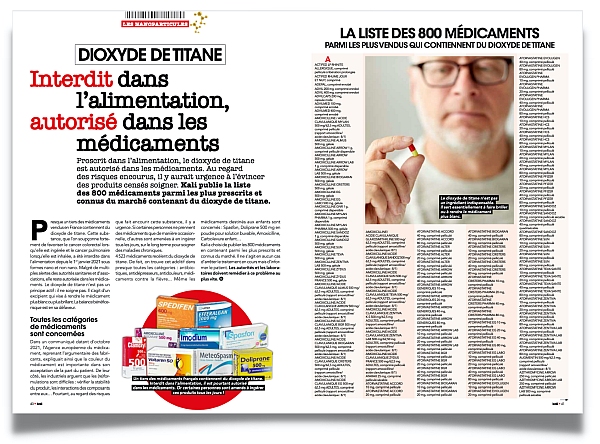 In 2020 :
October 22, 2020: the association Agir pour l'Environnement launches a "Stop titanium" petition asking for the extension of the ban on titanium dioxide to medicines and toothpastes (more than 30 signatures collected):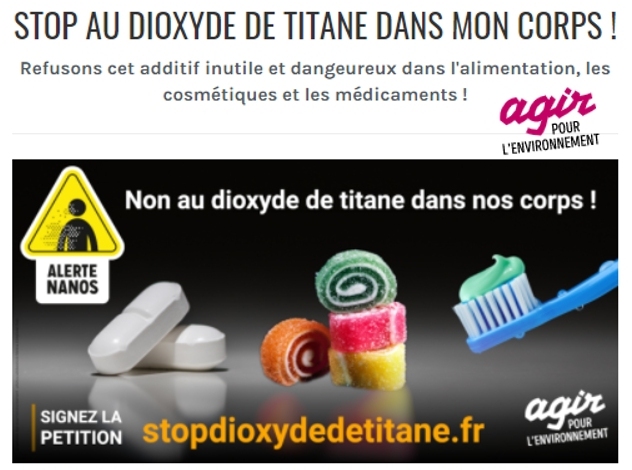 October 16, 2020: What to Choose reiterates also its call for an extension of the ban on this additive to drugs and cosmetics likely to be ingested (toothpaste, lipstick, etc.):
October 7, 2020: a survey of French researchers shows that the exposure of pregnant women to titanium dioxide leads to an accumulation of TiO nanoparticles2 in the placenta and contamination of the fetus. It was conducted by scientists from INRAE, LNE, the Rouen Materials Physics Group, the Toulouse University Hospital, the University of Picardie Jules Verne and the National Veterinary School of Toulouse. It confirms strong presumptions, following publications in animals. As reminded by INRAE ​​press release, the use of titanium dioxide in foodstuffs has been suspended in France, but it is still used in toothpastes, UV screens, cosmetic creams and powders and pharmaceuticals. In a communicated published the same day, Acting for the Environment calls for the extension of the ban on E171 to drugs and toothpaste.
In 2019 :
In 2018 :
October 2018: 60 million consumers denounce the almost systematic use of TiO2 for applications where the anti-UV function is not strictly necessary is controversial, in particular in anti-wrinkle creams: "The filters incorporated in these anti-wrinkles are controversial. In particular (…) titanium dioxide in nano form. In a purely aesthetic care cream such as an anti-wrinkle, the presence of UV filters with a proven risk, or even only suspected of toxicity, is not acceptable"3See " Anti-wrinkle creams: unwelcome UV filters », 60 Million consumers, October 25, 2018.
June 2018: online petition "Stop the carcinogenic titanium dioxide in our medicines! » (for the attention of the Minister of Health, on the citizaction.fr platform which is no longer online) > at the beginning of November 2019 she had collected more than 20 signatures
February 2018: What to choose highlights in TiO's Aquafresh toothpaste2 of which 40% of the particles have a dimension less than 100 nm.
In 2017 :
October 2017: nano comics co-financed by Agir pour l'Environnement, Future Generations, France Nature Environnement and the Committee for Sustainable Development in Health (C2DS)
June 2017: "Temporarily ban nanomaterials whose harmlessness is questionable in food, medicines and toothpastes in France" is one of the eleven proposals compiled by AVICENN, in partnership with its associate members and other actors from civil society and risk assessment and management bodies within the framework of the labeling/restriction of nanomaterials working group led by the Ministry of the Environment
In 2009 :
A remark, a question? This sheet produced by AVICENN is intended to be supplemented and updated. Please feel free to contribute.
The next nano appointments
Nanotechnology, bend or mirage? (FCE CFDT, Paris)
"What prevention approaches to limit the risks?" »
Health and Work Day on the impact of nanotechnology on health
Organizer: Chemistry and Energy Federation (FCE) of the CFDT
Speakers: FCE, INRS, AVICENN
Website : www.fce.cfdt.fr/…


Future-proof Approaches for Risk Governance – Lessons Learned from Nanomaterials (NANORIGO, RiskGONE & Gov4Nano, online)
Conference
Topic: "future challenges in risk governance of nano- & advanced materials. This includes safe- and sustainable by design (SSbD) and harmonization and standardization"
Organizers: NANORIGO, RiskGONE et Gov4Nano, in collaboration with the OECD Working Party on Manufactured Nanomaterials
Website : www.eventbrite.com/…
NanoSafe conference 2023 (CEA, Grenoble)
8th International Conference on Health Issues for a Responsible Approach to Nanomaterials
June 5-9, 2023
Organizer: Commissariat for Atomic Energy and Alternative Energies (CEA)
Website : www.cea.fr/cea-tech/pns/nanosafe/…
Sheet initially created in March 2019
---
Notes & references
1

2

In October 2018, the Casino brand undertook to remove TiO nanoparticles

2

de

"all its products", including toothpaste

, by the end of the year. In January 2019, AVICENN also spotted the brand's toothpaste

Dentavie

marketed by the Léa Nature Laboratory, guaranteed "free of superfluous and controversial ingredients", in particular without "titanium dioxide".

3
Our watch, our information and our actions need you to last!