Nanos in the PNSE 4 (2020-2024)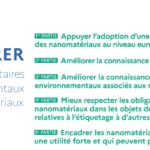 Nanos in the National Health and Environment Plan 4 (PNSE4)
By AVICENN Team – Last Modified October 2022
PNSE 4
The National Environmental Health Plan aims to answer the questions of French people about the short and medium term health consequences of exposure to certain types of pollution in their environment.
Le NESP 4 (2020-2024) was unveiled in May 2021 by the Ministries of Solidarity and Health and Ecological Transition.
Work to develop this plan was launched on March 21, 2019, for an official release initially expected for early 2020 but postponed due to the health crisis linked to covid-19.
A draft version had been submitted to consultation until December 9, 2020.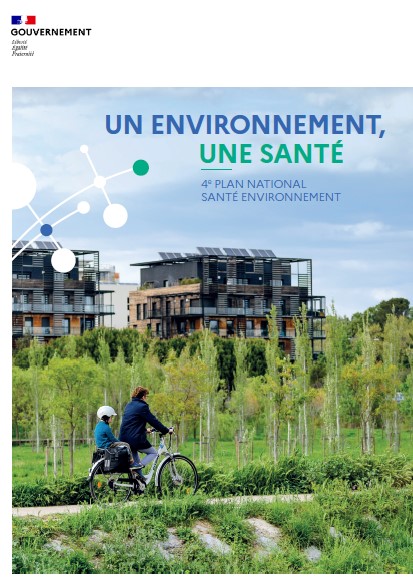 The nano measurements of the PNSE 4 project
"Better management of the health and environmental risks of nanomaterials": this is the title of theaction 13 specifically dedicated to nanomaterials, broken down into 5 sections:
AVICENN's paw in the PNSE 4
This "action" includes many recommendations from civil society on nanos1See in particular:
- There compilation of 20 proposals by AVICENN for his hearing in June 2019 for the preparation of the PNSE 4
- There contribution from AVICENN from December 9, 2020 to the consultation on the PNSE project 4 of the Ministries of Solidarity and Health and Ecological Transition (October-December 2020)
- the eleven proposals compiled between 2015 and 2017 by AVICENN as part of a working group on labeling / restriction of nanomaterials led by the Ministry of the Environment
It includes many of the recommendations formalized by AVICENN in 2015-2017: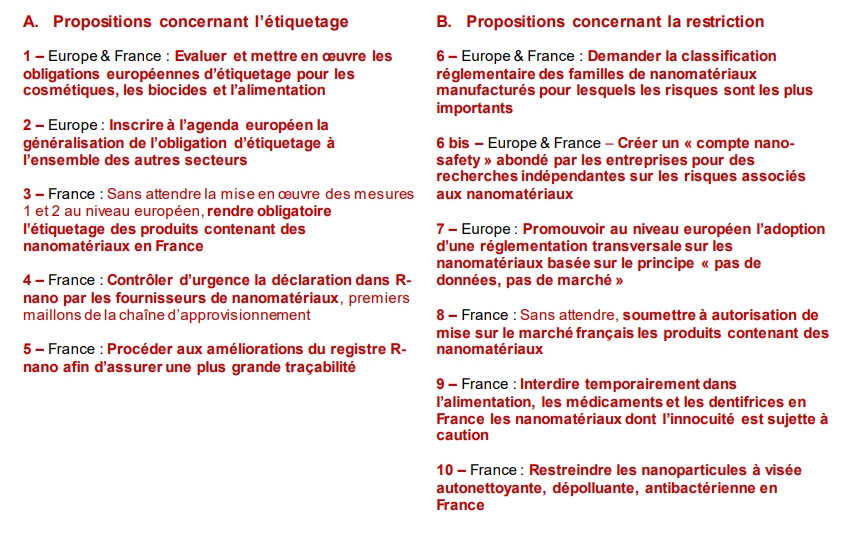 What limits?
What about raising awareness and informing the general public, exposed workers and residents, vulnerable people? Efforts in this direction must be continued!
What concrete variations?
The various components of action 13 have begun to be rolled out. In October 2022, the government published a PNSE 4 progress report which proposes a progress report2See 4th National Environmental Health Plan – Progress Report 2021-2022, Government, October 2022. If we can congratulate ourselves on what has already been done, it is clear that there is still much to do.
To be continued!
A remark, a question? This sheet produced by AVICENN is intended to be supplemented and updated. Please feel free to contribute.
The next nano appointments
"Nano and Health" dialogue committee (ANSES, Maisons-Alfort)
Maisons-Alfort
Dialogue Committee
14th meeting of the "nano and health" dialogue committee
Organizer: ANSES
Website : www.anses.fr
Nanomaterials, how to identify them more efficiently? (LNE, Paris)
Technical Day
Organizer: National Metrology and Testing Laboratory (LNE)
On the agenda: identification of nanomaterials, recent technological innovations in terms of particle size characterization, areas for progress to be considered
Upcoming program
Website : www.lne.fr/…
NanoSafe conference 2023 (CEA, Grenoble)
8th International Conference on Health Issues for a Responsible Approach to Nanomaterials
June 5-9, 2023
Organizer: Commissariat for Atomic Energy and Alternative Energies (CEA)
Website : www.cea.fr/cea-tech/pns/nanosafe/…
Sheet initially created in March 2019
---
Notes & references
Our watch, our information and our actions need you to last!