Framing of nanos in medical devices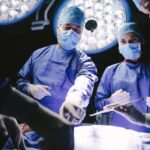 Framing of nanos in medical devices
By the AVICENN team – Last modification April 2022
At the European level
In Europe, nanos in medical devices are regulated by Regulation (EU) 2017/745 of the European Parliament and Council of 5 April 2017.
The definition of the term "nanomaterial" is close to that of the European definition "recommendation" of 2011. According to "Rule 19", "All devices that incorporate or are made of a nanomaterial fall under :
Class III if they have a medium or high internal exposure potential,
Class IIb if they have a low potential for internal exposure, and
Class IIa if they have negligible internal exposure potential.
It remains to be seen how the exposure potentials are evaluated…
– In French :
– In English:
In France
A post-2017 ANSM reportNanomaterials1in Medicines and MedicalDevices2, ANSM, undated, it was written from 2017predicts:
to bring evolutions to the standardization and regulation for a better identification and evaluation of nanomedicines and medical devices
to make changes to the R-nano register (converging with the demands of the precautionary and prevention actors)
increased involvement of the ANSM on the subject
etc.
In the United States
In the United States, the Food & Drug Administration (FDA) provisions are published in the following document: Drug Products, Including Biological Products, that Contain Nanomaterials – Guidance for Industry, April 2022
A question, a comment? This sheet realized by AVICENN is intended to be completed and updated. Please feel free to contribute.
Other sheets to deepen your knowledge
NanoSafe conference 2023 (CEA, Grenoble)
How the world deals with Materials on the Nanoscale – Responsible Use and Challenges (OECD-BMUV, Berlin)
International Conference from June 22 to 23, 2023
Organizers: OECD, German Federal Ministry for the Environment, Nature Conservation, Nuclear Safety and Consumer Protection(BMUV)
Website: https: //www.bmuv.de/…
São Paulo School of Advanced Science on Nanotechnology, Agriculture & Environment (SPSAS NanoAgri&Enviro, São Paulo)
From July 3 to 15, 2023 in São Paulo
Organizer: FABESP
Application from November 18 to February 05. Registration fees and travel expenses are covered.
Speakers: see the complete program here.
This sheet was originally created in February 2019
Notes & références
1

2

, ANSM, undated, it was written from 2017predicts
Our monitoring, information and actions need you to continue !