MBBT or "Bisoctrizole" in nano form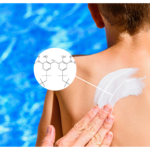 By the AVICENN team – Last added November 2020
Nano MBBT
Methylene bis-benzotriazolyl tetramethylbutylphenol (MBBT)otherwise known as "Bisoctrizole" (CAS number: 103597-45-1), is a UV filter authorized in nano form at the European level within the framework of the Cosmetics Regulation at a concentration of 10 % m/m (except for applications (e.g., may result in end-user lung exposure through inhalation of this substance). It is used in the BASF product Tinosorb®1MCf. BASF welcomes EU approval of nano-sized UV filter in cosmetics, BASF, July 30, 2018.
According to the Ministry of Ecological Transition and SolidarityCf.2bilan R-nano 2019, Ministry of Ecological Transition and Solidarity, June 2020, between 10 and 100 tons of nano MBBT were officially imported or manufactured in France in 2018. This range is not very precise and should be considered as an indication only because the quantities registered in the French R-nano register are below the quantities actually present on the French market, as many nanomaterials escape declaration.
There are strong uncertainties about the risks associated with MBBT, which is insoluble and persistent/bioaccumulative, leading the European Scientific Committee on Consumer Safety(SCCS) to place nano MBBT at the top of the list of riskiest nanomaterials in the cosmetics sector in October 2020.
A comment, a question? This sheet realized by AVICENN is intended to be completed and updated. Please feel free to contribute.
How the world deals with Materials on the Nanoscale – Responsible Use and Challenges (OECD-BMUV, Berlin)
International Conference from June 22 to 23, 2023
Organizers: OECD, German Federal Ministry for the Environment, Nature Conservation, Nuclear Safety and Consumer Protection(BMUV)
Website: https: //www.bmuv.de/…
São Paulo School of Advanced Science on Nanotechnology, Agriculture & Environment (SPSAS NanoAgri&Enviro, São Paulo)
From July 3 to 15, 2023 in São Paulo
Organizer: FABESP
Application from November 18 to February 05. Registration fees and travel expenses are covered.
Speakers: see the complete program here.
File initially created in November 2020
---
Notes & références
Our monitoring, information and actions need you to continue !