Risks associated with carbon nanotubes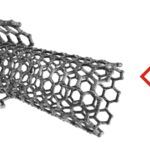 Risks associated with carbon nanotubes
By the AVICENN team – Last added March 2022
Because of their long, fibrous form, which is reminiscent of asbestos, carbon nanotubes raised strong concerns about their toxicity very early on.
After many years, and a last consultation during the summer of 2021, the European Chemicals Agency (ECHA) validated in March 2022 the classification as carcinogenic by inhalation (cat. 1B) of long multiwall carbon (nano)tubes . This includes those with a diameter ≥ 30 nm and < 3 μm, a length ≥ 5 μm and a width to height ratio > 3:1Cf1. Echa's Rac agrees to carcinogenic classification for multi-walled carbon tubes, Chemical Watch, March 23, 2022 . This classification follows the submission of a dossier by Germany for the inclusion of the substance in Annex VI of the CLP Regulation.
A look back at previous episodes:
In May 2014, the French Health Security Agency (ANSES) had recommended a classification of carbon nanotubes as hazardous substances so that measures could be put in place to restrict their use or even ban their use in certain consumer applications.
In 2015, the Société pour l'étude, la protection et l'aménagement de la nature dans le Sud-Ouest (SEPANSO) alerted on the risks linked to the production of carbon nanotubes by Arkema in Mont (Pyrénées-Atlantiques) by asking for the stopping of the productions until the harmlessness of nanos is established for the employees, the consumers and the environment2Cf. Mont: carbon nanotubes in the crosshairs of the Sepanso, La République des Pyrénées, February 25, 2015; see also ANSES, Avis relatif à "l'évaluation des risques liés au GRAPHISTRENGTH C100 réalisée dans le cadre du programme Genesis", November 28, 2013.
In November 2019, carbon nanotubes are the first nanomaterials to be integrated into the SinListA list of substances to be replaced urgently because they are too dangerous3Cf. With its SinList, the NGO ChemSec alerts a non-expert public to chemical risks, Novethic, November 2019 and New chemicals on the SIN List challenge the global supply chain, ChemSec, November 2019.
That same month, the European Agency for Safety and Health at Work had awarded the 2018-2019 Healthy Workplaces Good Practice Award to Atlas Copco Industrial Technique, a Swedish manufacturing company that has taken a precautionary approach to minimizing worker exposure to carbon nanotubes4Cf. Sweden: protecting workers from potentially hazardous carbon nanotubes in manufacturing, OSHA Europe, November 2, 2019.
In July 2020, ECHA published an assessment report on multiwall carbon nanotubes (MWCNTs), the tube-shaped and entangled synthetic graphite, conducted by the German Institute for Occupational Safety and Health (BAuA)5Cf. SUBSTANCE EVALUATION CONCLUSION as required by REACH Article 48 and EVALUATION REPORT for Multi-walled Carbon Nanotubes (MWCNT), synthetic graphite in tubular shape and tangled, BAuA / ECHA, July 2020. The report points out that the information required by 1 January 2020 under REACH had not yet been (sufficiently) filled in by registrants and that additional measures are therefore necessary, starting with a compliance check. Once the data required by REACH is provided by the companies, ECHA may decide whether additional information is needed. ECHA is urging registrants to update their dossiers and/or develop testing proposals to comply with REACH requirements.
In the United States, the U.S. Environmental Protection Agency (EPA) has issued several Significant New Use Regulations (SNURs) for carbon nanotubes, requiring anyone wishing to manufacture, import, or process, for commercial purposes, these carbon nanotubes to notify the EPA at least 90 days before :
In 2021, carbon nanotubes have been identified as one of the four most risky categories of nanomaterials by a team from University College Dublin8Cf. A semiquantitative risk ranking of potential human exposure to engineered nanoparticles (ENPs) in Europe, Li, Y and Cummins, E, Science of the Total Environment, 778, July 2021.
Explore the bibliography below to learn more.
In French :
INRS, Long-term exposure of BEAS-2B cells to low concentrations of MWCNT is responsible for the induction of epithelial-mesenchymal transition, Barthel H et al, Nanomaterials, 11, 1742, 2021

Françoise Pons (University of Strasbourg), Impact des caractéristiques physicochimiques sur l'effet inflammatoire et pro-allergisant respiratoires des nanoparticules manufacturées, presentation at the Anses & ADEME Scientific Meetings on Air Quality, October 17, 2019
Flahaut E et al, Toxicity of carbon nanotubes towards humans and the environment, Techniques de l'ingénieur, October 2018
elektor, Long fiber carbon nanotubes are carcinogenic, November 2017
ANSES, Impacts of carbon nanotubes on health: relationship structure inflammatory effects, Hadj-Ziane-Zafour A., Bulletin de veille scientifique, n°32, October 2017
IARC, Monograph – Carcinogenicity of Carbon Nanotubes, Vol.111, 2017
Chakroun R, Influence on the toxic effects of simultaneous exposure to nanoparticles and metals, Science Watch Bulletin No. 30, ANSES, October 2016
Dekali S, Carbon nanotubes: new advances on exposure models for the study of health hazard, Science Watch Bulletin No. 30, ANSES,October 2016
Larue C, Where do we stand on the ecotoxicology of carbon nanotubes, Science Watch Bulletin No. 29, ANSES, September 2016
CNRS, Carbon nanoparticles: a better assessment of their toxicity, June 2, 2016
Elgrabi D et al, How do carbon nanotubes degrade in the human body, press release, Université Paris Diderot, 9 December 2015 (scientific publication in English here)
Loïc Chauveau, À Paris, des nanotubes de carbone dans les poumons d'enfants asthmatiques, Sciences & Avenir, 23 October 2015
"Imogolite nanotubes: a new model material in nanotoxicology?" by Rose J et al, in Participant's file prepared for the Restitution of the National Environmental Health and Work Research Program (PNREST), October 2015
C. Endes et al, Cotton fibers in place of carbon nanotubes, NRP 64, May 2015.
La République des Pyrénées, Mont : les nanotubes de carbone dans le collimateur de la Sepanso, 25 February 2015
Bourdiola F et al, Measuring the impact of carbon nanotubes in the environment, CNRS, January 2015
Figarol A, In vitro toxicity and physicochemical properties of carbon nanotubes, thesis, Ecole nationale supérieure des Mines de Saint-Etienne, November 2014
Flahaut E, Evaluation of the potential environmental impact of carbon nanotubes, Nanomaterials Industrial Days, Armines, (video), April 2014
Boudard D, Bio toxicity in vitro of Carbon Nanotubes, Nanomaterials Industrial Days, Armines, (video), April 2014
AtouSanté, Toxicology of nanotubes – Analogy between carbon nanotubes and asbestos – Exposure limit value at the workstation, March 2014
Techniques de l'Ingénieur, Toxicity mitigation of carbon nanotubes through chemical functionalization, January 10, 2014
ANSES, Opinion on "the risk assessment of GRAPHISTRENGTH C100 carried out in the framework of the Genesis program", November 28, 2013 (online January 9, 2014)
Veillenanos, Health effects of carbon nanotubes – Avoiding repeating the mistakes of asbestos, 26 Nov. 2013
Mouchet F. et al, Carbon nanotubes: what are the risks for the environment, Biofutur, 32/347, 29-33, October 2013: work has shown acute (mortality, reduced mobility) and chronic (growth inhibition) toxicity effects, mainly related to their ingestion by exposed organisms, but at concentrations described as not environmentally representative (from 10 mg/L).
CNRS, Long carbon nanotubes, risks similar to asbestos?, 15 January 2013
ANSES, Toxicity and ecotoxicity of carbon nanotubes – Note d'actualité, État de l'art 2011-2012, November 2012
ANSES, Opinion on the risk assessment of GRAPHISTRENGTH C100 conducted under the Génésis program, (carbon nanotubes), April 2012
Electronic Newsletters Sweden, Swedish study warns of health risks of carbon nanotubes, March 7, 2011
HCSP, Opinion on the safety of workers during exposure to carbon nanotubes, Referral of June 16, 2008 from the Director General of Health, January 7, 2009.
INRS, Les nanotubes de carbone : quels risques, quelle prévention, Note documentaire, 2008
In English:
Multi-Walled Carbon Tubes (synthetic graphite in tubular shape) with a geometric tube diameter range ≥ 30 nm to <3 μm and a length ≥ 5 μm and aspect ratio > 3:1, including Multi-Walled Carbon Nanotubes; [MWC(N)T]: Classification Carc. 1B, H350i, STOT RE 1, H372ECHA, 2021
Continuous Long-Term Exposure to Low Concentrations of MWCNTs Induces an Epithelial-Mesenchymal Transition in BEAS-2B Cells, Barthel H et al, Nanomaterials, 11(7), 1742, 2021
A semiquantitative risk ranking of potential human exposure to engineered nanoparticles (ENPs) in Europe, Li, Y and Cummins, E, Science of the Total Environment, 778, July 2021
Understanding the Broad Class of Carbon Nanotubes and Nanofibers (CNT/F) Used or Produced in U.S. Facilities, Erdely A et al, NIOSH Science blog, January 5, 2021
Significant New Use Rules on Certain Chemical Substances (20-1.5e) – § 721.11467Carbon nanotubes (generic), EPA, September 17, 2020
Science for Environment policy, Incinerating nano-enabled thermoplastics linked to increased PAH emissions and toxicity, European Commission DG Environment News Alert Service, 508, 24 May 2018
Laux P et al, Challenges in characterizing the environmental fate and effects of carbon nanotubes and inorganic nanomaterials in aquatic systems, (Critical Review), Environ. Sci.: Nano, 5, 48-63, 2018
Liné C, Carbon nanotubes: Impacts and behaviour in the terrestrial ecosystem – A review, Carbon, 123: 767-785, October 2017
Chernova T et al, Long-fiber carbon nanotubes replicate asbestos-induced mesothelioma with disruption of the tumor suppressor gene, Current Biology, 27( 21), 3302-3314, November 2017 (see abstract in French: Les nanotubes de carbone à fibre longue sont cancérogènes, elektor, November 2017
Mottier A et al, Environmental impact of engineered carbon nanoparticles: from releases to effects on the aquatic biota Environmental impact of engineered carbon nanoparticles: from releases to effects on the aquatic biota, Current Opinion in Biotechnology, 46, 1-6, August 2017
Carbon nanotubes: Impacts and behaviour in the terrestrial ecosystem – A review, Liné C et al, Carbon, 123; 767-785, July 2017
IARC, IARC Monographs – Some Nanomaterials and Some Fibers, Volume 111, 2017
OECD, Single-Walled Carbon Nanotubes, July 2016
Mottier A et al, Surface Area of Carbon Nanoparticles: A Dose Metric for a More Realistic Ecotoxicological Assessment, Nano Letters, 16 (6): 3514-3518, 2016
Polimeni M et al, Multi-walled carbon nanotubes directly induce epithelial-mesenchymal transition in human bronchial epithelial cells…, Particle and Fibre Toxicology, 13: 27, June 2016
Zeng W et al, The influence of inhaled multi-walled carbon nanotubes on the autonomic nervous system, PF&T, 13:8, 2016
Elgrabli D et al, Carbon Nanotube Degradation in Macrophages: Live Nanoscale Monitoring and Understanding of Biological Pathway, ACS Nano, 9 (10): 10113-10124, 2015
Schubauer-Berigan MK et al, Epidemiologic studies of U.S. workers handling carbon nanotubes: the interface between exposure and health, NIOSH (USA), slide presentation at the Quantifying Exposure to Engineered Nanomaterials Workshop, July 2015
Grosse Y et al, Carcinogenicity of fluoro-edenite, silicon carbide fibres and whiskers, and carbon nanotubes, 15(13): 1427-1428, December 2014
Vasyl Harik, Carbon Nanotubes and Safety, in Trends in Nanoscale Mechanics, August 2014, pp 197-211
Powers C M et al. Sparking Connections: Toward Better Linkages Between Research and Human Health Policy – An Example with Multiwalled Carbon Nanotubes, Toxicological Sciences, 141(1): 6-17, June 2014
Schierz A et al, Fate of single walled carbon nanotubes in wetland ecosystems, Environ. Sci.: Nano, 2014
Czarny B et al, Carbon Nanotube Translocation to Distant Organs after Pulmonary Exposure: Insights from in Situ 14C-Radiolabeling and Tissue Radioimaging, ACS Nano, 8 (6): 5715-5724, May 2014
IARC, IARC Advisory Group Recommends Multi-Walled Carbon Nanotubes as High Priority, May 14, 2014
The Lowell Center for Sustainable Production, Precarious Promise: A Case Study of Engineered Carbon Nanotubes, University of Massachusetts Lowell, March 2014
Gernand JM and Casman EA, A Meta-Analysis of Carbon Nanotube Pulmonary Toxicity Studies -How Physical Dimensions and Impurities Affect the Toxicity of Carbon Nanotubes, Risk Analysis, 34(3): 583-597, March 2014
Siegrist KJ et al, Genotoxicity of multi-walled carbon nanotubes at occupationally relevant doses, Particle and Fibre Toxicology, 11:6, 2014
Nymark P., et al, Free radical scavenging and formation by multi-walled carbon nanotubes in cell free conditions and in human bronchial epithelial cells, Particle and Fibre Toxicology, 11:4, 2014
Sargent LM et al, Promotion of lung adenocarcinoma following inhalation exposure to multi-walled carbon nanotubes, Particle and Fibre Toxicology, January 2014, 11:3
FIOH (Finland), Evaluation of the health effects of carbon nanotubes, October 2013
RISS (Japan), Guide to measuring airborne carbon nanotubes in workplaces, National Institute of Advanced Industrial Science and Technology (Japan), October 2013
Mercer et al, Extrapulmonary transport of MWCNT following inhalation exposure, Particle and Fibre Toxicology, 10:38, August 2013
A comment, a question? This sheet realized by AVICENN is intended to be completed and updated. Please feel free to contribute.
Other sheets to deepen your knowledge
NanoSafe conference 2023 (CEA, Grenoble)
How the world deals with Materials on the Nanoscale – Responsible Use and Challenges (OECD-BMUV, Berlin)
International Conference from June 22 to 23, 2023
Organizers: OECD, German Federal Ministry for the Environment, Nature Conservation, Nuclear Safety and Consumer Protection(BMUV)
Website: https: //www.bmuv.de/…
São Paulo School of Advanced Science on Nanotechnology, Agriculture & Environment (SPSAS NanoAgri&Enviro, São Paulo)
From July 3 to 15, 2023 in São Paulo
Organizer: FABESP
Application from November 18 to February 05. Registration fees and travel expenses are covered.
Speakers: see the complete program here.
This sheet was originally created in December 2013
---
Notes & références
1

2

3

4

5

6

7

8
Our monitoring, information and actions need you to continue !