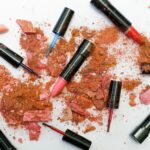 Dossier: Nanos in cosmetics
By the AVICENN team – Last modification January 2023
Almost all cosmetic products contain nanos: toothpastes, sunscreens, anti-aging creams, foundations, nail polishes, mascaras, eyeliners, lipsticks, hair dyes, blushes, powders, soaps, shower gels, deodorants…
These nanos are mainly colorants, texture agents, antibacterial or UV filters.
Despite the labeling obligation (theoretically in force in Europe since 2013, but insufficiently applied) and the publication of a pseudo "catalog" by the European Commission in 2017 / 2019, the precise identification of nanoparticles in cosmetics is still very difficult today for consumers and health authorities, unless they resort to laboratory analysis.
Due to a lack of reliable data, their associated health risks are still poorly identified and assessed.
As for the risks to the environment, they are still insufficiently taken into account by the risk assessment and regulating authorities.
Where are nanos hidden in cosmetics, what are they used for, how can they be detected and can they be replaced? How are they managed in France and in Europe? What are their risks to human health and ecosystems? These information sheets explore these different questions and will be enriched as we continue to monitor and receive your contributions.
The information sheets in this section
Nanomaterials and REACh (LNE, Paris)
Technical day "What recognition of available methods and laboratories to produce the required data?"
Organizers: LNE
Speakers from the following institutions: OECD, ECHA, BAuA, government agencies, industry, LNE

Global Webinar on Nanotechnology and Nanoscience (Online)
Managing the risks associated with nanomaterials (CEA, Grenoble)
Awareness-raising aimed at personnel in contact with nanomaterials during research, formulation, production, maintenance, cleaning, upkeep, etc., as well as safety coordinators or engineers, facility managers, heads of laboratories where nanoparticles are handled.
Organizers: INSTN Grenoble (CEA)
On the agenda: potential impact on health; metrology and protection; control of potential risks associated with nanomaterials; consideration of societal aspects.
Any questions or comments? This information sheet compiled by AVICENN is intended to be completed and updated. Please feel free to contribute.
This file was originally created in February 2019
Our monitoring, information and actions need you to continue !