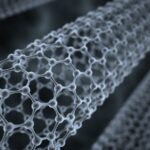 Carbon nanotubes
By the AVICENN team – Last added June 2022
There are different types of carbon nanotubes
Discovered two decades ago, carbon nanotubes are a new form of carbon.
There is a large variety of them and their physico-chemical characteristics vary according to their manufacturing or implementation process.
These nano-objects are sheets of graphene wound on themselves, forming hollow cylinders, with at least two dimensions in the nanoscale.
They can be divided into two main groups:
Single-walled carbon nanotubes (SWCNT), which are made of a sheet of graphene, wound in the form of a cylindrical tube,
multi-walled carbon nanotubes (MWCNT) made up of several concentric tubes.
Their average diameter varies from a nanometer (SWCNT) to a few tens of nanometers (MWCNT), up to 100 nm.
Their length also varies from a few micrometers to a few hundred micrometers, it can even reach several meters in some cases.
What properties?
Because of their exceptional properties – electrical conductivity, mechanical strength and thermal conductivity – carbon nanotubes have been touted as revolutionary materials for industrial sectors such as electronics, aerospace or nanomedicine.
The importance of their "length to diameter" ratio gives carbon nanotubes very specific properties, which are exploited or coveted:
for materials (electrostatic dissipation, mechanical reinforcement),
for coatings (electrical conductivity to adhesives and inks for example),
for energy (extending the life of energy storage systems by allowing a greater number of charge/discharge cycles; increasing the performance of li-ion batteries)
for catalysis
for the medical field1Cf. Saito, N. et al. Future Prospects for Clinical Applications of Nanocarbons Focusing on Carbon Nanotubes. Advanced sciences, 2022 These include drug delivery, imaging and even medical devices.
Yet, at the end of 2017, the "miracle" seems to have failed to materialize; functional industrial applications seem to be rare. Carbon nanotubes are difficult to combine with other materials, or when they can be combined, can lose the properties for which they were made2Fine felted nanotubes CAU research team develops new composite material made of carbon nanotubes, Kiel University, November 21, 2017.
How much is on the market?
As of 2016, between one and ten tons* of carbon nanotubes had been reported to the R-nano registry as having been produced and/or imported into France in 2015.
But in 2019, less than 1 kg was reported in total nationally for 2018. This range illustrates the weight given by the public authorities to industrial and commercial secrecy, which prevents us from having a good understanding of the quantities and uses of these particles, despite the increasingly pressing requests for information from a growing number of actors. But above all, it is little compared to what the announcements around the promises of carbon nanotubes suggested.
Some production sites (and difficulties)
By 2020, the Russian group OCSiAl plans to set up the world's largest industrial production of single-walled carbon nanotubes in Luxembourg, in the Hanebësch business park in Differdange3Cf. Nanomaterials: a 100 million euro project and 200 jobs in Differdange, Le Quotidien, July 5, 2017.
In France, Arkema started up the first laboratory pilot capable of producing nearly 20 metric tons of carbon nanotubes per year at its Lacq site in 2006. In 2009, the company announced the construction of a carbon nanotube pilot plant at its Mont site (Pyrénées-Atlantiques4)Arkema builds a carbon nanotube pilot plant in France, Arkema, press release, September 17, 2009 With a potential capacity of 400 tons/year, the unit would have produced only 40 tons, at one time, between 2011 and 2015. "40 tons still stored on site", according to Eric Frasca, CGT delegate of the Lacq-MourenxMont site5: carbon nanotubes in the crosshairs of the Sepanso, La République des Pyrénées, February 25, 2015.
In Germany, Bayer also stopped its carbon nanotube manufacturing in 2013See6in particular:
–7Nanotubes de carbone : la déception gagne l'industrie, L'Usine nouvelle, 13 mai 2013
–8Nanotubes de carbone : le marché sera plus restreint, selon Arkema, Industrie & Technologies, 16 mai 2013.
In Belgium, Nanocyl has an industrial pilot that is "still not profitable fifteen years after its creation9"Nanocyl, Walloon technology flagship, is still not profitable fifteen years after its creation, RTBF, October 9, 2016...
Asian competition would explain the difficulties of European producers (in 2013, the Chinese CNano Technology and the Japanese Showa Denko were increasingly important in the carbon nanotube market).
In the United States, market players include Hyperion Catalysis and, more recently, the Californian start-up Saratoga Energy, which has developed a promising electrolytic process for the low-cost conversion of CO2 into carbon nanotubes (less than $5 per kilogram, or one hundred times less than the current cost of producing them in the gas phase on a catalytic support)1014 nominees and 3 winners at the World Materials Forum 2017 start-up challenge, L'Usine nouvelle, April 25, 2017.
What are the risks?
The intrinsic physicochemical properties of carbon nanotubes raise many concerns about their effects on human health.
In view of the deleterious effects that may be caused by certain carbon nanotubes (long nanotubes, which cause damage comparable to that caused by asbestos in the lungs), a classification is underway at the European level.
In French :
Carbone – Ses vies, ses oeuvres, Bernadette Bensaude-Vincent and Sacha Loeve, Seuil, October 2018
The fantastic world of carbonaceous nanomaterials, Chris Ewels (Chargé de Recherche, University of Nantes), Jérémy Rio (Docteur, University of Nantes), Pint of Science, 15 May 2018
In English:
Une remarque, une question ? Cette fiche réalisée par AVICENN a vocation à être complétée et mise à jour. N'hésitez pas à apporter votre contribution.
D'autres fiches pour approfondir
NanoSafe conference 2023 (CEA, Grenoble)
How the world deals with Materials on the Nanoscale – Responsible Use and Challenges (OECD-BMUV, Berlin)
International Conference from June 22 to 23, 2023
Organizers: OECD, German Federal Ministry for the Environment, Nature Conservation, Nuclear Safety and Consumer Protection(BMUV)
Website: https: //www.bmuv.de/…
São Paulo School of Advanced Science on Nanotechnology, Agriculture & Environment (SPSAS NanoAgri&Enviro, São Paulo)
From July 3 to 15, 2023 in São Paulo
Organizer: FABESP
Application from November 18 to February 05. Registration fees and travel expenses are covered.
Speakers: see the complete program here.
This sheet was originally posted in July 2017
---
Notes & références
1

2

3

4

5

6

in particular:


7

8

9

10
Our monitoring, information and actions need you to continue !