Life cycle of nanomaterials and products containing them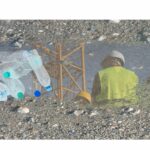 Take into account the entire life cycle of nanomaterials and products containing them
By Avicenn Team – Last Added June 2022
In order to do not repeat the mistakes of the past, it is necessary for industrialists, risk assessment and management bodies and researchers to consider the life cycle of nanomaterials as a whole: from their design to their destruction or recycling, including their use/consumption.

A comprehensive approach – Social Life Cycle Analysis (SLC) – is promoted by the United Nations Environment Program (UNEP)1Guidelines for social life cycle analysis of products, UNEP, 2009. It can be applied to nanomaterials and must be carried out in a prospective manner, prior to commercialization - and not as a "firefighter" after the appearance of health or environmental problems. This is a broader "benefits-risks" analysis than that currently proposed by proponents of the traditional (and limited) risk approach. In particular, it considers the following questions: "what benefits/risks, for whom, where, when?" ".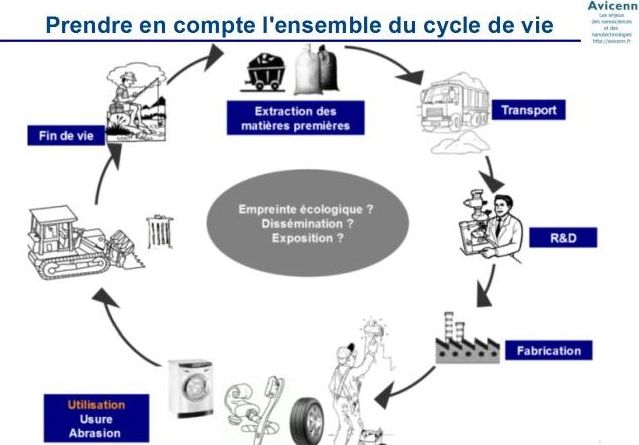 For the time being, scientists indeed have very limited knowledge of the types of nanomaterials that are incorporated into products currently on the market, and a fortiori residues of degradation of nanomaterials released throughout the "life cycle" of these products; they are also unaware of many things about the mobility and the transformations undergone by the latter in the environment ou in the human body : many parameters come into play, such as the degree of acidity or salinity of the water, for example2On the influence of acidity on the physico-chemical parameters of nanomaterials, see for example:
- Fate of iron nanoparticles in the environment. Colloidal stability, chemical reactivity and impacts on plants, thesis of Edwige Demangeat, Geosciences Rennes UMR 6118, 2018
- Natural acids in soil could protect rice from toxic nanoparticles, Science News, April 2015.
In May 2019, the Science for Environment Policy newsletter reports the advancement of a life cycle analysis method adapted to emerging technologies: The Lifecycle Screening of Emerging Technologies (LiSET). Will it be usable and used before marketing certain "nanos"? The question is to be investigated.
In French :
"Exposure to nanomaterials must be assessed throughout the life cycle to design safer products", points out Jérôme Rose, 2020 CNRS silver medalist, Industry & Technology, May 25, 2021
Management of waste and effluents containing nanomaterials. Future and impact in the treatment and recovery sectors – Summary, Ecogeos, RECORD, 2019
3rd regional NEC ("nano eco-design") working group on "Eco-design of nanomaterials", organized by the Labex Serenade and Éa eco-companies in Aix-en-Provence: Life Cycle Analysis – for an approach "safer by design", February 2019
Assessment of the risks associated with nanomaterials – Issues and update of knowledge, ANSES, April 2014
The life of nanomaterials… and ours?, Citizen Collective Nanotechnologies of the Plateau de Saclay, April 2014
Legal reflections on the analysis of the life cycle of nanomaterials, Engineering techniques, April 2014
In English :
Nanosafety Analysis of Graphene-Based Polyester Resin Composites on a Life Cycle Perspective, Aznar Molla, F et al., Nanomaterials, 12, 2036, 2022
Morphological transformation of silver nanoparticles from commercial products: modeling from product incorporation, weathering through use scenarios, and leaching into wastewater, Mohan S et al., Nanomaterials, 9(9), 1258, 2019
Environmental Life Cycle Assessment of Nanosilver-Enabled Bandages, Pourzahedi L and Eckelman MJ, ISMarch 2015
Safety of Nanomaterials along Their Lifecycle: Release, Exposure, and Human Hazards, Wohlleben W et al., CRC Press, 2015
Life Cycle Assessment of 'Green' Nanoparticle Synthesis Methods, Environmental Engineering ScienceJune 2014
From Cradle-to-Grave at the Nanoscale: Gaps in US Regulatory Oversight along the Nanomaterial Life Cycle, ISMay 2013
Analysis and strategic management of nanoproducts with regard to their sustainability potential Analysis and strategic management of nanoproducts with regard to their sustainability potential, Öko-Institut, July 2012
Life cycle assessment of engineered nanomaterials, Science of the Total EnvironmentMay 2012
A remark, a question? This sheet produced by AVICENN is intended to be supplemented and updated. Please feel free to contribute.
The next nano appointments
"Nano and Health" dialogue committee (ANSES, Maisons-Alfort)
Maisons-Alfort
Dialogue Committee
14th meeting of the "nano and health" dialogue committee
Organizer: ANSES
Website : www.anses.fr
Nanomaterials, how to identify them more efficiently? (LNE, Paris)
Technical Day
Organizer: National Metrology and Testing Laboratory (LNE)
On the agenda: identification of nanomaterials, recent technological innovations in terms of particle size characterization, areas for progress to be considered
Upcoming program
Website : www.lne.fr/…
NanoSafe conference 2023 (CEA, Grenoble)
8th International Conference on Health Issues for a Responsible Approach to Nanomaterials
June 5-9, 2023
Organizer: Commissariat for Atomic Energy and Alternative Energies (CEA)
Website : www.cea.fr/cea-tech/pns/nanosafe/…
This listing was originally created in November 2014
---
Notes & references
Our watch, our information and our actions need you to last!