Towards the suspension of titanium dioxide in cosmetics and medicines?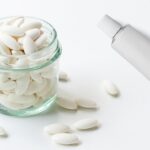 + More info sheets
News
Agenda
After the ban in foodstuff, will we get a suspension of titanium dioxide in cosmetics (except sunscreens) and medicines?
By the AVICENN team – Last added May 2023
The ban of (nano)particles of titanium dioxide in consumer products has been requested for about ten years by various organizations (associations, journalists, health agencies, …). These demands have accelerated recently with the ban of titanium dioxide in foodstuffs (E171) in 2020.
AVICENN is compiling below the requests in favor of the extension of this ban to cosmetics likely to be ingested and/or inhaled (toothpastes, make-up, lip balms…) and to medicines.
Chronology:
In 2023
May 2023 : Published within a few days of each other, two articles from INRAE warn about chronic oral exposure to titanium dioxide: not only is E171 likely to promote certain metabolic disorders leading to diseases such as diabetes or obesity, but its nanoparticles can pass directly into the bloodstream via the mucous membranes of the mouth, and damage the DNA of exposed human oral cells.
In 2022
"Treated for heart problems, I take atenolol (Tenormin), amlodipine, and atorvastatin for cholesterol: these 3 drugs contain E171 as an excipient. Still for the heart, I take Kardegic 75 which causes weakness of the blood vessels, hence hemorrhoids which I treat with Daflon, also containing E171.

Unfortunately, I suffer from prostatitis, so I take either Permixon or Tadenan, 2 pills a day, also containing E171…

When I have trouble sleeping, I take Zopiclone, which contains the same excipient, and if I want to make it lighter by taking Euphytose, I find myself facing the same problem…(…)

In short, I find that the cumulative effect is not taken seriously either by the laboratories or by the Ministry of Health, while pastry chefs have excluded this product from their preparations. (…) There you go, just in case my voice could be heard somewhat, and you could help with that."
December 14, 2022: Anses published its opinion on the risk assessment of the nanometric fraction of the food additive E171 which points out the lack of toxicological data available to perform a complete assessment of the additive E171 and recommends limiting the uses and exposures of workers and consumers to nanomaterials, "by promoting the use of safe products, free of manufactured nanomaterials, and by limiting these uses to those considered in fine as duly justified and subject to a documented demonstration of risk acceptability".
June 21, 2022: The European Commission asked the Scientific Committee on Consumer Safety (SCCS) to re-evaluate the safety of TiO2 in cosmetics, with regard to its genotoxicity in case of inhalation and oral exposure. Among the types of cosmetics mentioned: lip balms, lipsticks, toothpastes, powders and hair sprays. The CSSC has nine months to issue its opinion, which should therefore be finalized in March 2023.
January 14, 2022: the European regulation 2022/63 banning the food additive titanium dioxide (E171) opens the possibility, in its article 3, of a ban on E171 in medicines – a decision that could be taken in 2025. By April 2024, the European Medicines Agency (EMA) will need to complete an updated assessment before the European Commission can reconsider the need to keep titanium dioxide (E171) on the list of colorants used in medicines, taking into account progress made in the meantime to develop alternatives. "If the replacement of titanium dioxide (E171) in medicinal products has not taken place or has not started within the above-mentioned time frame, only verifiable objective reasons related to the impossibility to replace it should be taken into consideration"
In 2021
December 24, 2021: relaying the investigation of Kali (see above), France 3 interviewed Pauline Cervan of Générations futures who denounces the fact that titanium dioxide has no role on the effectiveness of drugs, but presents risks of carcinogenicity and genotoxicity
December 22, 2021: Kali magazine made its "front page" on the 800 drugs containing titanium dioxide and calls for the withdrawal of TiO2 from drugs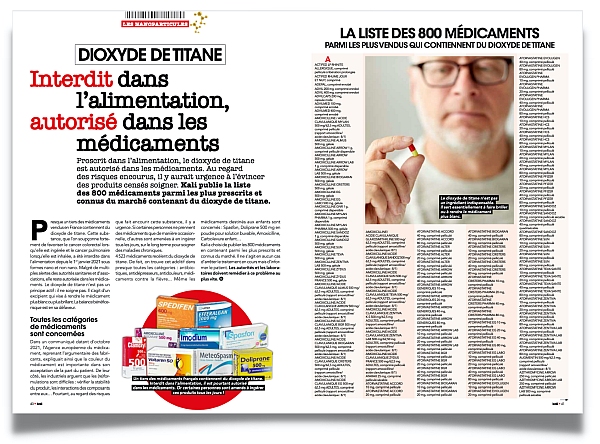 In 2020
October 22, 2020: the association Agir pour l'Environnement launched a petition "Stop titanium" asking for the extension of the ban on titanium dioxide to medicines and toothpastes (more than 30 000 signatures collected):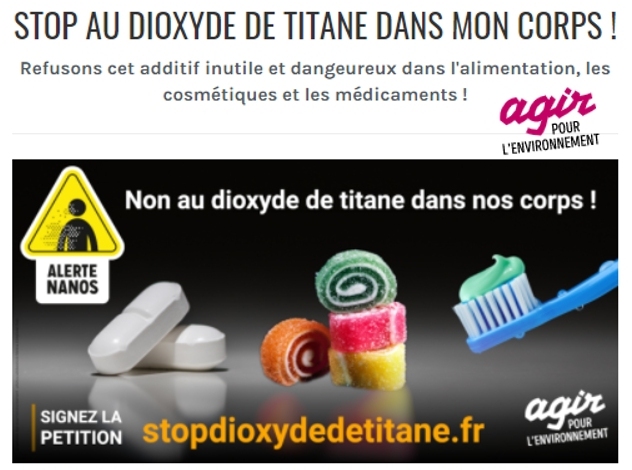 16 October 2020: Que Choisir also reiterated its call for a broadening of the ban on this additive to drugs and cosmetics likely to be ingested (toothpaste, lipstick …):
October 7, 2020: a study by French researchers showed that pregnant women's exposure to titanium dioxide leads to an accumulation of TiO2 nanoparticles in the placenta and contamination of the fetus. It was conducted by scientists from INRAE, LNE, the Rouen Materials Physics Group, the Toulouse University Hospital, the University of Picardie Jules Verne and the Toulouse National Veterinary School. It confirmed strong presumptions, following publications of tests in animals. As the INRAE press release reminded us, the use of titanium dioxide in foodstuffs has been suspended in France, but it is still used in toothpastes, anti-UV screens, cosmetic creams and powders and pharmaceutical products. In a press release published the same day, Agir pour l'Environnement asked for the extension of the E171 ban to medicines and toothpastes.
In 2019
In 2018
October 2018: "60 Millions de consommateurs" denounced the almost systematic use of TiO2 for applications where the anti-UV function is not strictly necessary is controversial, notably in anti-wrinkle creams: "The filters incorporated in these anti-wrinkle products are controversial. In particular (…) titanium dioxide in nano form. In a care cream with a purely aesthetic aim such as an anti-wrinkle cream, the presence of UV filters with a proven risk, or even only suspected of toxicity, is not acceptable".3Cf. " Anti-wrinkle creams: unwelcome UV filters," 60 Millions de consommateurs, October 25, 2018.
June 2018: online petition "Stop carcinogenic titanium dioxide in our medicines!" (to the attention of the Minister of Health, on the platform citizaction.fr which is no longer online) > early November 2019 it had collected more than 20,000 signatures
February 2018: Que Choisir highlighted TiO2 in Aquafresh toothpaste with 40% of particles smaller than 100 nm.
In 2017
October 2017: BD nano waq published, co-financed by Agir pour l'Environnement, Générations futures, France Nature Environnement and the Committee for Sustainable Development in Health (C2DS)
June 2017: "Temporarily banning nanomaterials of questionable safety in food, drugs and toothpaste in France" is one of the eleven proposals compiled by AVICENN, in partnership with its associated members and other civil society actors as well as risk assessment and management bodies in the framework of the nanomaterials labeling/restriction working group led by the Ministry of the Environment
In 2009
Any questions or comments? This information sheet compiled by AVICENN is intended to be completed and updated. Please feel free to contribute.
Our information sheets to go further
How the world deals with Materials on the Nanoscale – Responsible Use and Challenges (OECD-BMUV, Berlin)
International Conference from June 22 to 23, 2023
Organizers: OECD, German Federal Ministry for the Environment, Nature Conservation, Nuclear Safety and Consumer Protection(BMUV)
Website: https: //www.bmuv.de/…
São Paulo School of Advanced Science on Nanotechnology, Agriculture & Environment (SPSAS NanoAgri&Enviro, São Paulo)
From July 3 to 15, 2023 in São Paulo
Organizer: FABESP
Application from November 18 to February 05. Registration fees and travel expenses are covered.
Speakers: see the complete program here.
File originally created in March 2019
---
Notes & références
1

2

In October 2018, the retailer Casino, pledged to remove

TiO2

nanoparticles from

"all of its products," including toothpaste

, by the end of the year. In January 2019, AVICENN also spotted the

Dentavie

brand toothpaste marketed by Laboratoire Léa Nature, which is guaranteed to be "free of unnecessary and controversial ingredients," including no "titanium dioxide."

3
Our monitoring, information and actions need you to continue !