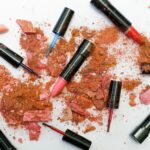 Dossier: Nanos in cosmetics
By the AVICENN team – Last modification January 2023
Almost all cosmetic products contain nanos: toothpastes, sunscreens, anti-aging creams, foundations, nail polishes, mascaras, eyeliners, lipsticks, hair dyes, blushes, powders, soaps, shower gels, deodorants…
These nanos are mainly dyes, texture agents, antibacterial or UV filters.
Despite thelabelling obligation (theoretically in force in Europe since 2013, but insufficiently applied) and the publication of a pseudo "catalog" by the European Commission in 2017 / 2019, the precise identification of nanoparticles in cosmetics is still very difficult today for consumers and health authorities, unless they resort to laboratory analysis.
Due to a lack of reliable data, their health risks are still poorly identified and assessed.
As for the risks to the environment, they are still insufficiently taken into account by the risk assessment and authorization authorities.
Where are nanos hidden in cosmetics, what are they used for, how can they be detected and can they be replaced? How are they managed in France and in Europe? What are their risks to human health and ecosystems? This file explores these different questions and will evolve as we continue to monitor and receive your contributions!
How the world deals with Materials on the Nanoscale – Responsible Use and Challenges (OECD-BMUV, Berlin)
International Conference from June 22 to 23, 2023
Organizers: OECD, German Federal Ministry for the Environment, Nature Conservation, Nuclear Safety and Consumer Protection(BMUV)
Website: https: //www.bmuv.de/…
São Paulo School of Advanced Science on Nanotechnology, Agriculture & Environment (SPSAS NanoAgri&Enviro, São Paulo)
From July 3 to 15, 2023 in São Paulo
Organizer: FABESP
Application from November 18 to February 05. Registration fees and travel expenses are covered.
Speakers: see the complete program here.
A comment, a question? This file realized by AVICENN is meant to be completed and updated. Please feel free to contribute.
This file was originally created in February 2019
Our monitoring, information and actions need you to continue !