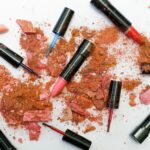 Dossier: Nanos in cosmetics
By AVICENN Team – Last Modified January 2023
Almost all cosmetic products contain nanos : toothpastes, sunscreens, anti-aging creams, foundations, nail polish, mascaras, eyeliners, lipsticks, hair dyes, blush, powders, blush, soaps, shower gels, deodorants…
These nanos are mainly colorants, texture agents, antibacterials or UV filters.
Despite thelabeling requirement (theoretically in force in Europe since 2013, but insufficiently applied) and the publication of a pseudo-"catalogue" by the European Commission in 2017 / 2019, the precise identification of nanoparticles in cosmetics is still today very difficult for consumers and health authorities, unless resorting to laboratory analyzes.
In the absence of sufficiently reliable data, their risk for the health are still poorly defined and poorly evaluated.
As to environmental risks, they are still too little taken into consideration by risk assessment and substance authorization bodies.
Where are nanos hidden in cosmetics, what are they used for, how to detect them and can they be replaced? How are they supervised, in France and in Europe? What are their risks for human health and ecosystems? This file explores these different questions and is bound to evolve over the course of our monitoring and your contributions!
"Nano and Health" dialogue committee (ANSES, Maisons-Alfort)
Maisons-Alfort
Dialogue Committee
14th meeting of the "nano and health" dialogue committee
Organizer: ANSES
Website : www.anses.fr
Nanomaterials, how to identify them more efficiently? (LNE, Paris)
Technical Day
Organizer: National Metrology and Testing Laboratory (LNE)
On the agenda: identification of nanomaterials, recent technological innovations in terms of particle size characterization, areas for progress to be considered
Upcoming program
Website : www.lne.fr/…
NanoSafe conference 2023 (CEA, Grenoble)
8th International Conference on Health Issues for a Responsible Approach to Nanomaterials
June 5-9, 2023
Organizer: Commissariat for Atomic Energy and Alternative Energies (CEA)
Website : www.cea.fr/cea-tech/pns/nanosafe/…
A remark, a question? This file produced by AVICENN is intended to be completed and updated. Please feel free to contribute.
This folder was originally created in February 2019
Our watch, our information and our actions need you to last!