Nanos: 17 NGOs call on the European Commission to be more vigilant
14/03/2023 - Modifié le 11/04/2023
In an open letter sent to the European Commission, 17 NGOs ask for concrete measures to inform and protect citizens and ecosystems from the risks linked to nanos.
Chronic exposure to nanos via everyday products…
The tests published by AVICENN last December revealed a significant presence of nanos, not labeled, and sometimes not even authorized, in everyday products. Of the 23 products tested, 20 contain nanoparticles of titanium dioxide, silver, iron oxide or silica, and many sectors are concerned (cosmetics, food, hygiene products, drugs, etc.).
Following this investigation, AVICENN and 16 other NGOs sent a letter to the European Commission to ask for better regulations and the implementation of concrete measures to inform and protect citizens and ecosystems from the risks associated with nanos.
The multiple and daily exposures to nanos of different sectors of the population, especially the most fragile, raises strong concerns among NGOs regarding the potential risks associated with this exposure in the long and medium term.
Concrete measures must be adopted to guarantee the protection and information of exposed people and ecosystems. As a reminder, the results of the tests conducted by AVICENN have shown the extent of nano impregnation in everyday products and the failure of the [nano] labeling obligation, supposed to inform consumers of the presence of nanos in certain products.
Among the signatories of this letter are, along with AVICENN, NGOs defending consumers and the environment. These are working :
– at the international or European level (CIEL, ChemSec, ClientEarth, ECOS, Foodwatch International, HEAL, Health Care without harm (HWCH), ZeroWaste Europe)
– or on a national scale: Altroconsumo (Italy), BUND (Germany), Fundacion Alborada (Spain), Générations Futures (France), OCU (Spain), Que Choisir (France), WECF France, ZERO (Portugal).
Questions and recommendations from NGOs on nanos
1. Ensure that there are no blind spots in the European regulations governing nanos
The new recommendation for the definition of the term "nanomaterial", if transposed as it is in the European regulations, will exclude a significant number of nanos: 'nano-composite' substances or those containing less than 50% of particles smaller than 100 nm will no longer be considered as nanos – while ingredients used in food or cosmetics containing more than 10% of the total of substances smaller than 100 nm were until now considered as nanomaterials by the DGCCRF.
NGOs are therefore questioning the European Commission on the specific provisions it intends to adopt, within REACH and sectoral regulations, to ensure the safety and labeling of nano-objects excluded from this new definition.
2. Strengthen controls on regulatory requirements related to nanos
Faced with non-compliance with regulations and labeling obligations, it is essential to strengthen controls and inspections of products likely to contain nanos and to apply dissuasive sanctions in case of non-compliance with the law throughout Europe. NGOs question the Commission: how does it plan to remedy the almost systematic non-compliance with European regulations governing nanos? How does it plan to encourage Member States to carry out more inspections?
3. Improve traceability and transparency of nano
While it is still very difficult to identify products containing nanoparticles, NGOs insist on the need to set up a European-wide register of nanos and products containing them as well as extend the labeling requirements to other product categories (today, only cosmetic, biocidal and food products are concerned): products for children, hygiene products, medicines, plant protection products, etc.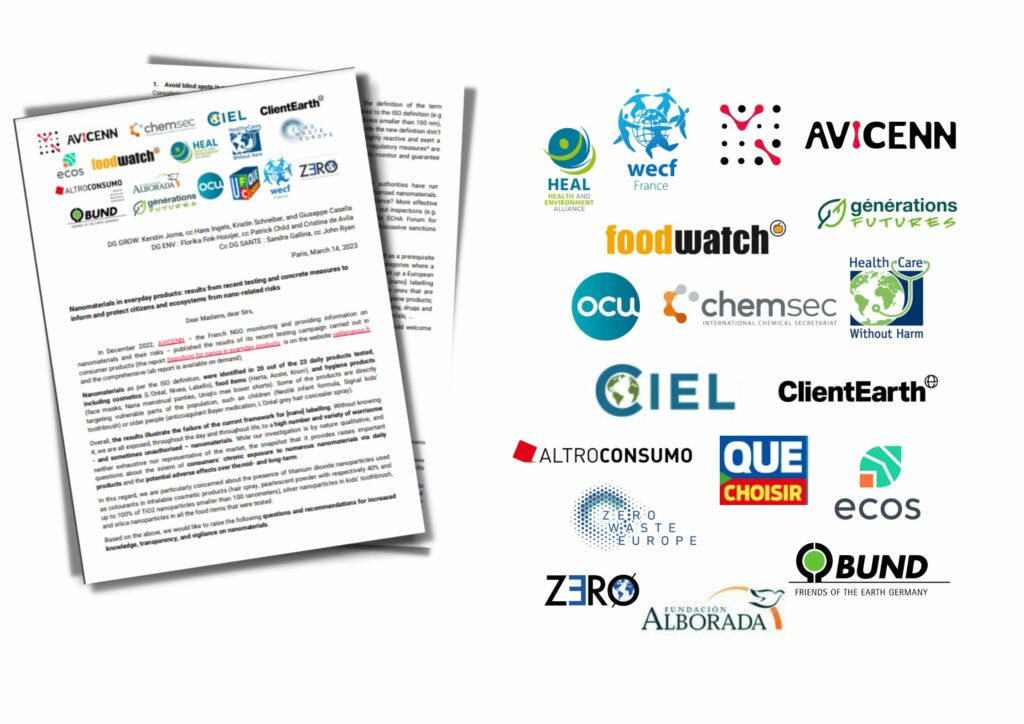 Following the release of the letter, Chemical Watch relayed the NGO's demands and recommendations: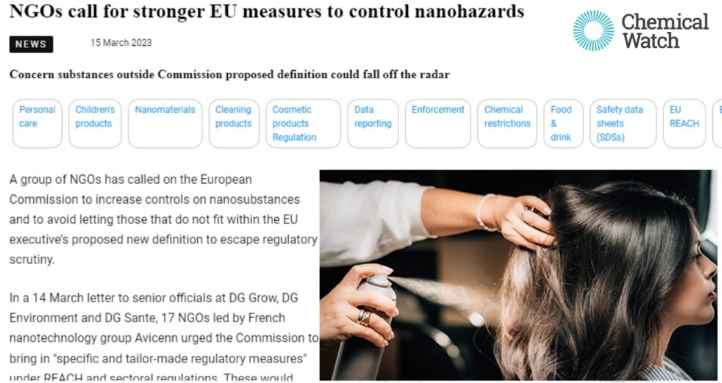 [Addendum] On April 11, 2023, the European Commission sent us an answer which, although four pages long, is far from answering the questions and problems raised by our associations.
Our information sheets to go further
Nanoparticles – Nanomaterials: An emerging risk (ASSTV 86, Poitiers)
Training: Identify nanomaterials in the workplace and understand their health effects. Acquire a prevention approach.
Speaker : Occupational physician and prevention consultant
Organizers: Association du Service de Santé au Travail de la Vienne (ASSTV)
Website: www.asstv86.fr/…
Fête de la science (Ministry of Higher Education and Research)
From October 6 to 16 in mainland France and from November 10 to 27 in other countries and overseas territories.
Organizers: Ministry of Higher Education and Research
Website: www.fetedelascience.fr
Characterizing and preventing risks related to manufactured nanomaterials and ultrafine particles (INRS, Vandœuvre-Lès-Nancy)
Training intended for occupational physicians, occupational risk prevention specialists (IPRP), company prevention specialists, prevention department staff from Carsat, Cramif and CGSS, institutional prevention specialists (Dreets, Dreal, MSA…).
Organizer: National institute of research and security (INRS)
October 9 to 13, 2023